Join Girl Scouts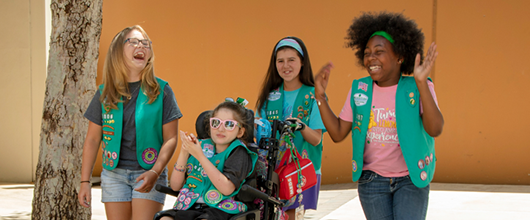 Girl Scouts of Greater Iowa is offering the gift of membership for all participating girls and adults for the 2022-23 Girl Scout year. Your membership will be valid through September 30, 2023. For both new and returning members, you can accept our gift of membership below.
Girl Scouts is a way of life that brings out the best in your girl. While she's learning about science, technology, engineering, and math (STEM); the outdoors; entrepreneurship; and important life skills, she's also discovering new ways to make your family and community stronger, kinder, and better for everyone.
Whether your girl is a dreamer, explorer, or something uniquely her own, she's welcome at Girl Scouts. Find what makes her shine with friends and mentors by her side.
So what are you waiting for?

Making friends, testing her strengths, exploring new possibilities. It's all here for her.
Whether teaming up with others or learning to shine on their own, Girl Scouts have the tools and community support they need to succeed.
Press play with Girl Scouts. Where she can be herself and her confidence can soar.
She's ready to go.
Still not ready to join but want to find out more?

Let us know you're interested and we can schedule a virtual meeting with you! See all the exciting possibilities Girl Scouts offers for girls of all ages and choose your adventure. Let us know you're interested and we'll have a staff member reach out to answer your questions!
Already a member? Log in to renew.