Join Girl Scouts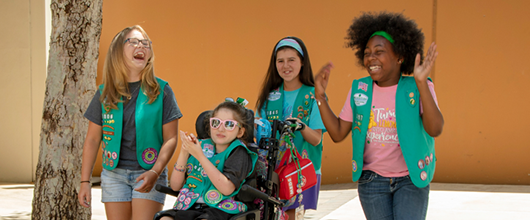 Girl Scouts of Greater Iowa is offering the gift of membership for all participating girls and adults for the 2022-23 Girl Scout year. Your membership will be valid through September 30, 2023. For both new and returning members, you can accept our gift of membership below.
Girl Scouts is a way of life that brings out the best in your girl. While she's learning about science, technology, engineering, and math (STEM); the outdoors; entrepreneurship; and important life skills, she's also discovering new ways to make your family and community stronger, kinder, and better for everyone.
Whether your girl is a dreamer, explorer, or something uniquely her own, she's welcome at Girl Scouts. Find what makes her shine with friends and mentors by her side.
So what are you waiting for?

Your new friends can't wait to meet you.
Right now, Girl Scouts are meeting furry friends at their local animal shelters, giggling past lights-out at sleepovers, and learning how their favorite roller coasters work.
Above all else, they're having a blast—because they know bringing the fun is all about being their true selves, trying new things, and cheering each other on.
Get ready to join the crew and bring a bit more happy to your life.
Still not ready to join but want to find out more?

Let us know you're interested and we can schedule a virtual meeting with you! See all the exciting possibilities Girl Scouts offers for girls of all ages and choose your adventure. Let us know you're interested and we'll have a staff member reach out to answer your questions!
Help Girl Scouts discover their place in the world.
Ever want to forget everybody else's expectations and just…be you? When you volunteer with Girl Scouts, you'll be creating a community where being your unfiltered, goofiest, most authentic self is the absolute best thing you can be.
Our local volunteers lead with their hearts and spark imaginations. They help Girl Scouts explore unique interests and unlock their potential.
Already a member? Log in to renew.