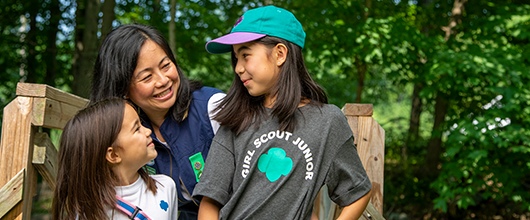 Why Volunteer
Girl Scouts of Greater Iowa is offering the gift of membership for all participating girls and adults for the 2022-23 Girl Scout year. Your membership will be valid through September 30, 2023. For both new and returning members, you can accept our gift of membership below.
Brand new troop leaders will receive a Basics in a Box kit – all the supplies you need for four meetings with your troop of ten Girl Scouts. To qualify, you must be a brand new Troop Leader and pass a background check. Just sign up below and we'll reach out to you!
Help her unleash her inner leader. Check out ways to volunteer.
Prepare her for a lifetime of leadership, and be the mentor she needs.
As a volunteer, you'll introduce girls to new experiences that show them they're capable of more than they ever imagined. They'll each find their inner G.I.R.L. (Go-getter, Innovator, Risk-Taker, Leader)™ after all!
You'll be their cheerleader, guide, and mentor, helping them develop essential life skills and confidence that will last a lifetime. Imagine the excitement, the impact, the memories made—those are the moments you'll share at Girl Scouts.
Embark on an extraordinary journey of leadership!