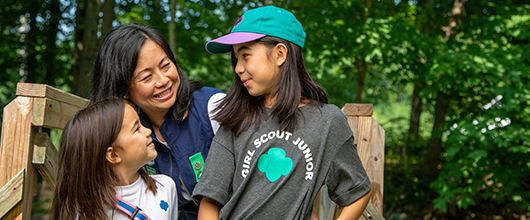 Girl Scouts of Greater Iowa is offering the gift of membership for all participating girls and adults for the 2020-21 year. For both new and returning members, you can accept our gift of membership below.
Help her unleash her inner leader. Check out ways to volunteer.
Prepare her for a lifetime of leadership, and be the mentor she needs.
As a volunteer, you'll introduce girls to new experiences that show them they're capable of more than they ever imagined. They'll each find their inner G.I.R.L. (Go-getter, Innovator, Risk-Taker, Leader)™ after all!
You'll be their cheerleader, guide, and mentor, helping them develop essential life skills and confidence that will last a lifetime. Imagine the excitement, the impact, the memories made—those are the moments you'll share at Girl Scouts.
Embark on an extraordinary journey of leadership!