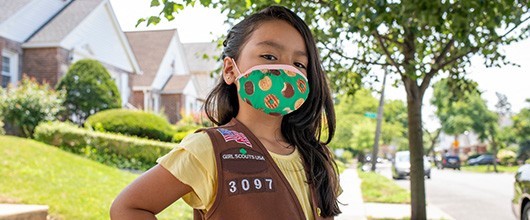 Our most valuable resource is and always will be our people, including our volunteers, girl and family members, and our employees. GSGI is committed to actions that maintain the health and well-being of our community. As Girl Scouts, we have a responsibility to our community to help limit the spread of this illness and set an example for others. Learn more about our current COVID-19 guidelines. 
Continue >

Check out the Girl Scouts at Home catalog! You'll find badge activities, fun at home experiences, challenges, and more. Just pick your grade level, the activity you'd like to do, and you're all set! Each activity is made for individual girls to complete themselves, but they also make great virtual troop meetings.
Continue >

The Bridge is your in-the-moment snapshot of what's important in the world of Girl Scouting. Stay connected, from monthly checklists for service unit success, to details about where to find helpful resources. Be sure to add The Bridge to your bookmarks!
Continue >



Providing Girl Scouts a Cookie Experience in a Distanced World
15 Feb 2021
Traditionally, Girl Scouts sell cookies to friends and family, door-to-door in their neighborhoods, and stationed at cookie booths outside of local businesses. While things are undoubtedly a bit different this cookie season, GSGI remains committed to providing girls a cookie experience that will set them up for success in their futures.

Girl Scout Alum Publishes Book, Reflects on Girl Scouting
15 Feb 2021
Girl Scout Alumn, Debra Eckerman-Pitton, PhD, recently published a book detailing her experience being trapped in Machu Pichu with a class of college students. She shares her story with us, including how she says her history of Girl Scouting helped her during that trying time.